It has been a while since I have watched anything Korean.  Yesterday, I found a movie on DVD and bought it. "Train To Busan" …I liked the cover, the blurb on the back and GONG YOO. I will watch anything he's in.
Today, I made a coffee, I cozied up on the couch with a blanket and my trusty dog BUFFY, and pushed play. She immediately fell asleep. The movie seemed to have a decent story, I am down for anything with "zombies" and the special effects were very good. Proves Hollywood does not retain the only movie making skills in the world. I love foreign films, and its usually a nice change to the cookie cutter money makers produced in the US. Every once in a while we make some great motion pictures, don't get me wrong. I do appreciate another cultural point of view. Lets face it, Koreans do drama and horror VERY WELL.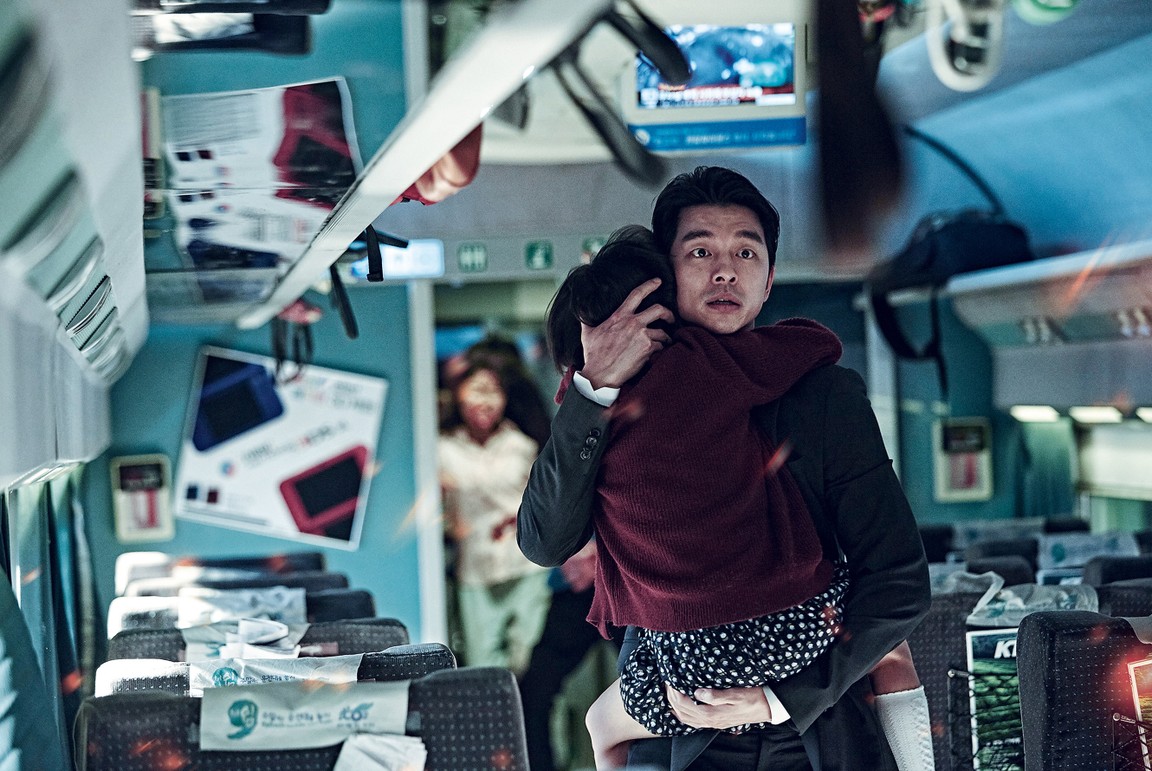 https://www.rottentomatoes.com/m/train_to_busan/pictures/
I should say, I am not a "horror" genre fan per say, but I have recently seen a lot of Zombie-type TV SHOWS and MOVIES. All the usual suspects of course and so I can watch without to much screaming or eye covering. The filming of this movie takes place on a train. Kudos for doing all that work in close quarters. It was believable, scary and pretty intense.
This movie lacked only a little in the story, since we never get a good idea of how this "plague" starts, which didn't bother me too much. But the way they tried to tie in that bit of the plot fell very short and kind of lame. I would have preferred drawing my own conclusions. That was my only issue, I give this movie a nice round of applause. I loved the characters, I rooted for most and was sad at the loss of others. I did get a little happy when some fell, but I don't want to give too much away.
SPOILER ALERT
I would have preferred Seok Woo not die in the END. But that being said, I was not surprised and at some point as the main actors started dying off, I had a feeling. Plus it was very Korean to not have a completely happy ending.
After watching the movie, I then checked out some reviews. I have learned when it comes to MOVIES, I like to draw my own conclusions. I do enjoy reading others thoughts after I view, just to see whose open minded and who is not.  Like here on this ROTTENTOMATOES site.
I do like the trailers, photos and FILM CREDITS found at IMDB.
All in all, very happy I purchased this movie, it will be a great occasional watch when I feel like subtitles and zombies….and a little GONG YOO and his smile. I can't wait to finish watching "The Goblin" on Dramafever.com, so I can add another review.
photo credit: INQUISITR